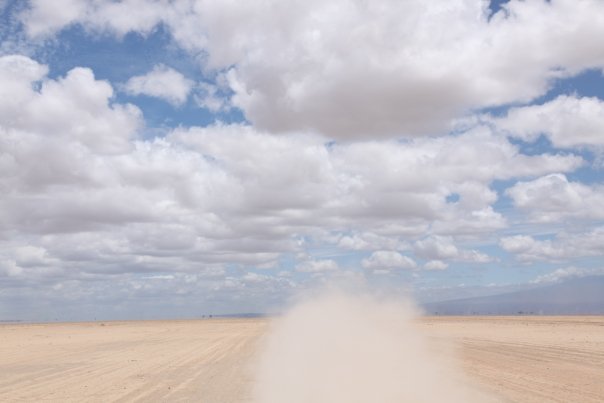 Photo Amboseli dry lake bed, Kenya, by Daisy Carlson
The world is not only getting hotter it's becoming more dangerous for millions of people that will and are suffering from food insecurity. According to Tim Radford, during three recent years, the total amount of global warming jumped by a fourth. Cities are also getting hotter and storms are getting stronger. Global surface temperatures are in some areas by 25% of levels seen in a similar five year period in 1900.
A separate study has confirmed that heat extremes have outpaced the global average. Maximum temperatures during the hottest heat waves have in the last 30 years risen three times faster – especially in crowded cities that are home to more than 10 million people.
Tim Radford has been covering climate change since 1988 and he seems surprised at the pace and the intensity of the heat.
According to Science Daily, "It's not just humans and animals that suffer when the mercury rises, plants feel the heat too. Heat stress is a major issue in agriculture and can significantly reduce crop yield. Even small increases in temperature can affect plant growth and development." This reduction in crop yield profoundly effects food security for millions of people. It was estimated in 2017 that 2.7 million people in Kenya were in need of relief assistance, up from 1.3 million in August 2016  and continuing to rise in 2018. This includes 300,000 people in non-Arid and Semi-Arid (non-ASAL) counties affected by crop failures and decline of yields. Most vulnerable are children under 5 years, mothers, the elderly and the sick.
Severe drought conditions continue to affect Somalia, South-East Ethiopia and North-East Kenya.
Over 15 million people in the region are facing food security crisis and food insecurity has increased in all three countries over the last 6 months.
Without continued humanitarian support this situation is likely to deteriorate further in during 2018
South Africa has declared the drought which has seen Cape Town hurtling towards "Day Zero" a national disaster on Feb 13, 2018.
The government made the announcement after reassessing the "magnitude and severity" of the three-year drought.
This drought as severely affected three of the country's nine provinces. The decision came as Cape Town announced its water saving measures, which require each citizen to use less than 50 litres a day, had successfully pushed back "Day Zero" to 4 June.
The African continent is paying our environmental debt with human lives. Their average carbon dioxide footprint of under 2 tons per person and ours on average at 20 tons per person. So please consider the future that you are burning.